How to Paint On Jeans (5 steps with pictures)
UPDATED: OCTOBER 2019
Originally published March 2018
If you follow along on my art Instagram (@kesslerramirezart), you have already seen my numerous pairs of painted vintage jeans. You can also see larger pictures of them HERE.
I have had so many people asking the same questions about these jeans, so instead of continuously responding to each individual person, I decided to make a full informational tutorial so you can make your own at home!
If you don't have the time or patience to make these yourself, I sell them HERE.
This post isn't intended to teach you how to paint an exact image, but instead give you the tools and tips you need to be able to paint any image you choose!
This post contains Amazon Affiliate links – buying through those links helps me fund my mini art biz!
To start, buy a pair of jeans or grab a pair you already own and gather your materials.
I source all my jeans from local thrift shops to keep the cost low and vintage jeans are the coolest. I recommend using jeans that have blank pockets without any stitching. Once you've picked out your jeans, wash and dry them to get any dust off them. The paint will not stay as well otherwise.
Acrylic is permanent and does not easily come off clothes. Washing information will be at the bottom of this post!
SUPPLIES I USE:
The images below picture Artist's Loft paints, but I DO NOT recommend using these as they are extremely low quality and can lead to cracking, peeling, and flaking.
FOR MORE PAINTS AND ART SUPPLIES, YOU CAN VIEW MY FULL ART IDEA BOARD
STEP 1: Taping
Choose which pocket you want to paint on and tape around it. You want to get underneath the edges of the pocket to make sure the paint does not get onto that part. I have used both blue painters tape and artists' tape, but I've found artists tape peels off much more easily.
The white tape is also better to accurately see the paint colors you are using.
STEP 2: Base Paint
Paint the whole pocket with 1-2 layers of white acrylic paint. You should not be able to see blue jean color coming through.
This base paint will make the colors POP instead of blending into the blue denim. It also creates a barrier so the colors do not soak into the denim.
Some acrylic paints are transparent, which means whatever they are painted onto shows through. If you try and paint a transparent yellow onto blue denim, you will end up with greenish-yellow and the denim peeking through.
As of July 2019, I began mixing fabric medium into my acrylic paints. This is to make it more durable and reduce issues such as cracking, peeling, etc. I really love the results and highly recommend it!
STEP 3: Draw Your Design
Usually, this is the step where I draw my design/image onto the white background.
With these jeans I painted Vincent Van Gogh sunflowers, which have a much more detailed outline and so I painted the background first.
I have also painted this painting by drawing the outline onto the white and painting around which actually worked better than painting the background first.
Use a thin black pen that will draw easily onto your (fully dry) painted pocket. I opted for my Faber Castell PITT artists' pen, but it can get worn down easily if the jeans are rough-textured.
The Papermate Profile is actually my favorite pen in the world for all things – including drawing on jeans!
STEP 4: Begin to paint!
Once you have all your lines drawn in, you can start to paint your design! Squeeze out small amounts of paint on to your palette, fill your paint cup with water, and lay out a paper towel or rag to dry your brushes on.
Since I did the background first on this pair of jeans, I painted white onto the flowers so the yellow would stand out and not blend with the aqua color. If you are painting from a reference photo, print it out or open the photo on your computer.
As you can see, I go a bit outside the lines so the tape is really useful. I made halfway marks on the tape which help me keep the image proportional and accurate. Everyone will have their own way of painting and you probably will be doing a different image than me.
Step 5: Peel off the tape
Let your painting completely dry and then slowly peel off the tape. This is my favorite part because it is so satisfying to peel and it cleans up the painting so nicely- like magic!
Heat-setting:
The best way to ensure the paint stays on the jeans is to get it really hot. This is called heat setting. It is super easy and there are 2 ways you can do it:
Iron the back of the painting for 5-7 minutes on high. DO NOT iron the front of the painting – turn the jeans inside out and iron the inside. As I paint more jeans, I have found that ironing is the best way because it is direct heat onto the pocket and ensures they are heat set well.

Throw them in the dryer! Make sure the paint has fully dried (acrylic dries almost immediately if it isn't painted on too thickly) and then throw them in the dryer on high or medium heat for 15-25 minutes. Easy!

I have previously used a blow dryer on the front of my painting, but it takes much longer and doesn't get as hot as an iron.
Acrylic paint turns into plastic once it is dry and creates a durable, shiny "skin". Heat setting helps to enforce the durable plastic.
washing and care
Although acrylics are permanent on clothes*, they can slightly fade in the wash. I've washed on pair in a regular cycle and they came out still looking almost exactly as they went in. The painting was slightly faded and a couple corners had rubbed off, but it seemed okay otherwise.
I recommend hand-washing inside out or washing on a delicate cycle inside out. Dry as usual.
Do not use bleach or fabric softener and use a mild detergent.
I wore these jeans for a full day of walking and sitting in Los Angeles and did not have any marks, fading, or cracking. Again, acrylic paint turns to plastic once it is dry which makes it durable and not likely to get scuffed.
*Alcohol of any kind will cause the paint to deteriorate and destroy your painting. This cannot be used to remove paint in large areas.
If this tutorial was helpful + you created your own pair – tag me on instagram! (@kesslerramirezart)
I would LOVE to see your creations!
Have more questions? Check out my FAQ!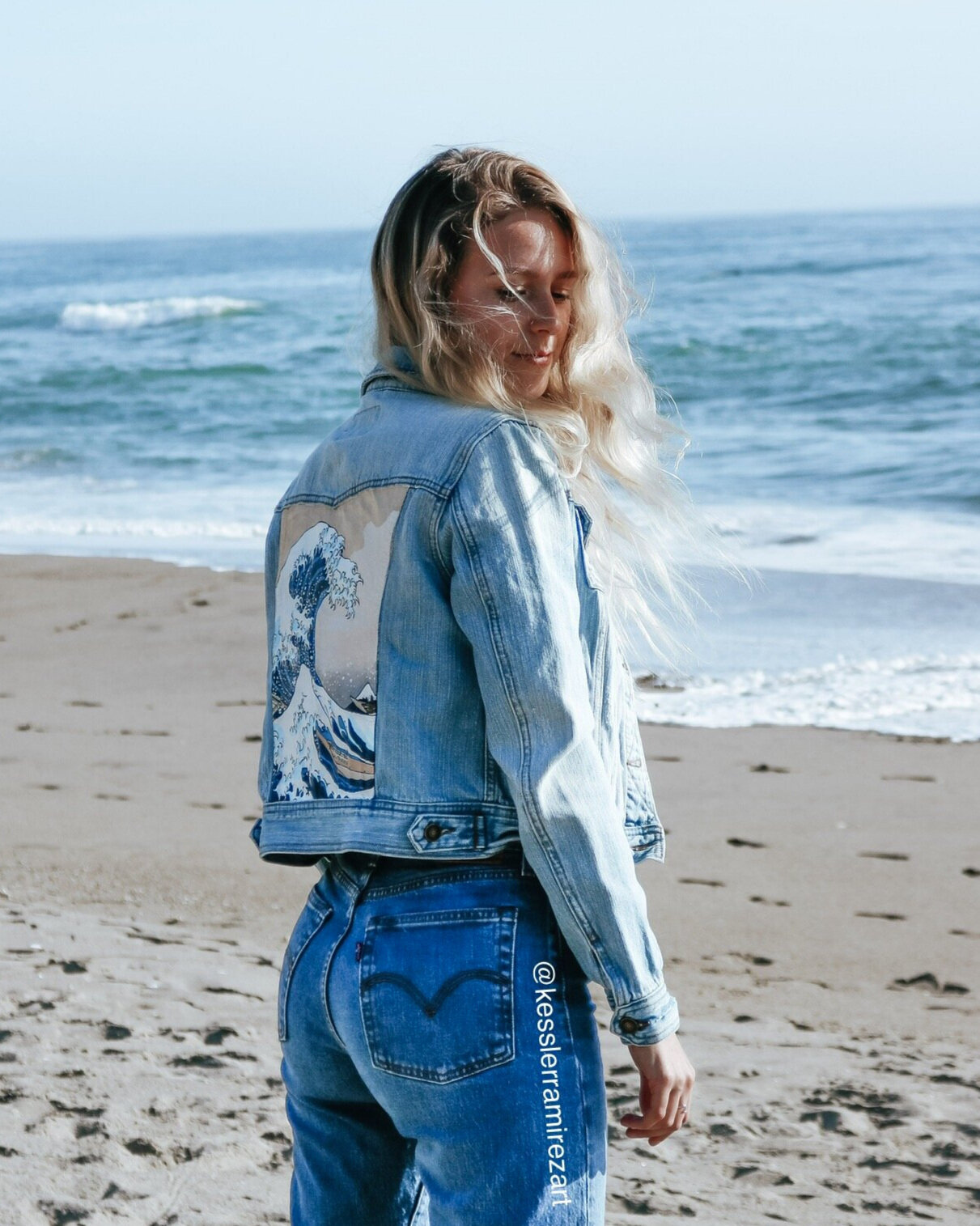 How can I sum up my entire self in a single 'about me' page? I can't. What I can do is give you the gist of it and hope you stick around to get to know me further than just this paragraph.
To keep it short and simple: I'm a creator and traveler with a dash of cat lady.
I created this website in an effort to share my passion for art and travel with the hopes of guiding you to new places and inspiring you to create your own art.